June 15, 2023
Overcoming Challenges in the Construction of the Kidston Hydro Project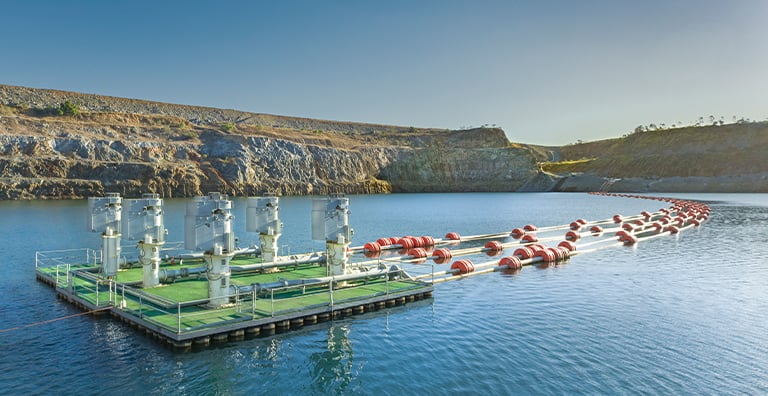 Increased investment in renewable energy projects from government institutions such as NAIF and ARENA are helping accelerate infrastructure development across the country. This has led to more sustainable mining projects getting off the ground to reduce the country's reliance on fossil fuels and drive the transition toward cleaner energy.
The flagship A$777M Kidston Hydro Project is one such landmark achievement that represents the mining industry's pursuit of a greener future for Australians. The project is in Kidston, approximately 400 kilometers inland from Townsville in Far-North Queensland. It is the first pumped storage hydro project in the country for over 40 years, which is being built for Genex Power.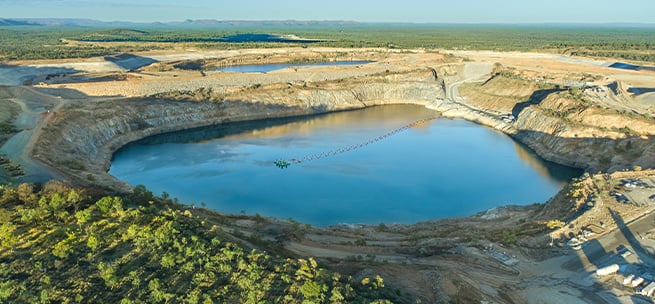 Led by construction contractor McConnell Dowell - John Holland (MDJH JV), the large-scale energy storage system generates power during peak demand periods, which returns water to the upper reservoir during off-peak periods.
To successfully pump this volume of water, overcoming complex logistical and technical challenges requires engaging market leaders known for their like-minded, innovative, and creative approach, as well as engineering capabilities.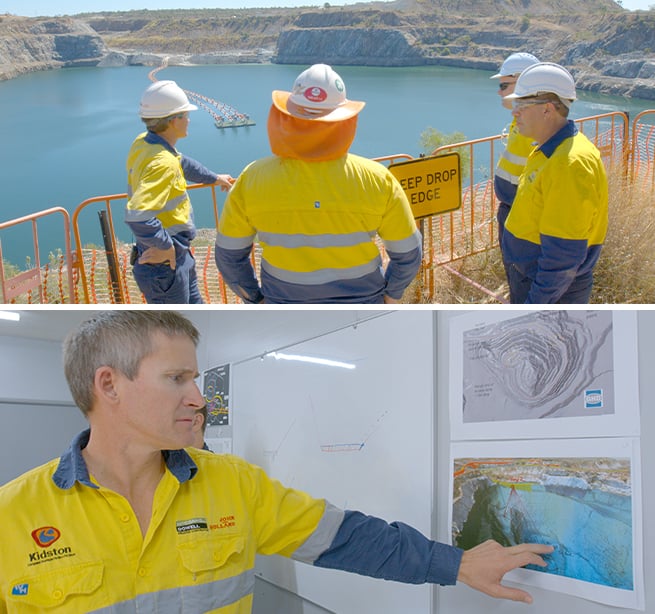 "The dewatering package here at the Kidston Hydro Project involves moving 30 gigalitres of water from the pit here, which is Eldridge Pit into the new Wises Dam, which we're constructing here." stated Will Hefferan, Surface Works Area Manager for a joint venture between McConnell Dowell and John Holland (MDJH JV).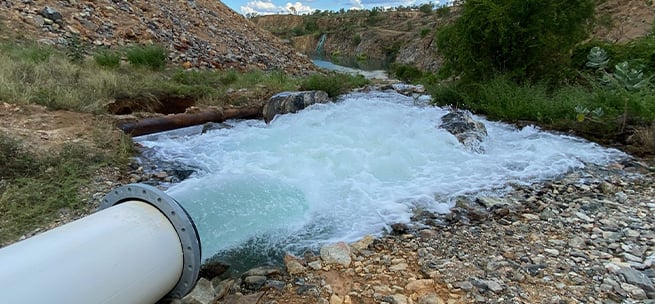 "We have a 300 days construction window to remove that water into the upper reservoir. That's dictated some fairly large pumps with a combined mass of about 60 tonnes. We've engaged Coerco to provide that floating solution for that pump system. We had a few key performance elements. One, obviously the stability of the pontoon and its ability to carry the weight of the pumps safely. We wanted a durable pontoon. We wanted input on constructability. We wanted a modular system that could easily be transported to the site across some challenging roads. We wanted a system that we could put together with the available resources on-site and within the limitations of the site, which ultimately resulted in the modular pontoon we see behind us. Given, we need to pull 180 meters of water from within the pit, an elaborate winching system had to be developed to allow the pontoon to be descended, as the water level dropped that 180 meters." Cameron Green added, who's the Surface Works Area Manager for joint venture between McConnell Dowell - John Holland (MDJH JV).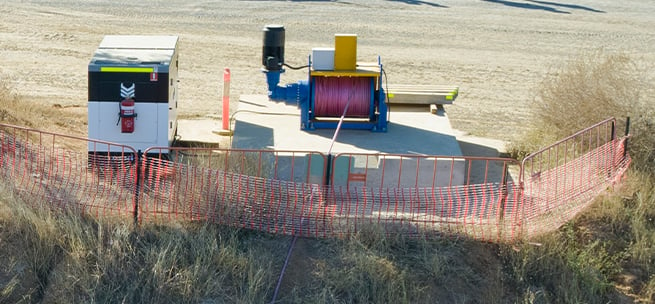 The pontoon's held in location using a winch arrangement approximately spaced at 120 degrees. There were three winches holding the pontoon on the station. The winches are a critical element of the dewatering package and help hold the pontoon in place, especially during dewatering.  
As the water is removed from the lower reservoir, the pontoon will swing an arc approximately 50 meters, while the water is pulled down 180 degrees vertically, so it is important to have flexibility in that winch arrangement. Meanwhile, the winch's ropes are laid out while the pontoon makes its way to its final pumping position.
One of the winches has a 14-tonnes winch system and a 40-tonnes capacity dynamo rope. What's special about this rope is that it is scuff-resistant and does not conduct electricity. This was one of the requirements by the client, in terms of specification.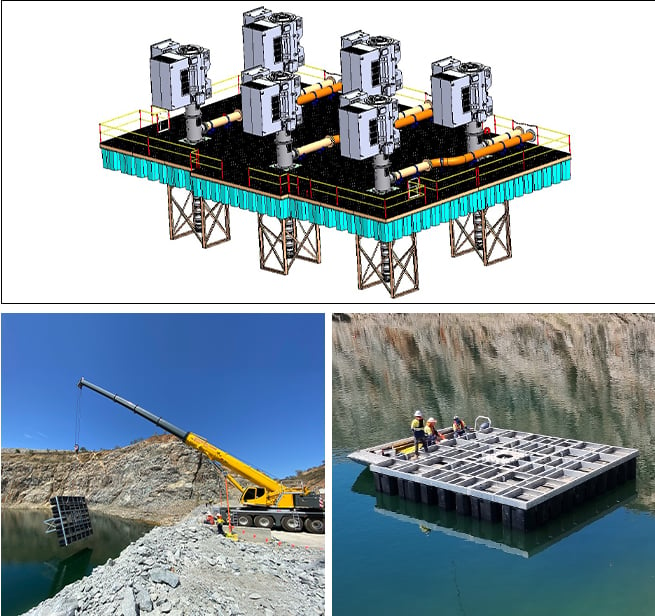 The design phases with Coerco were collaborative and the client provided input parameters from around the site. With the given information, Coerco developed some concepts before agreeing on some configurations. They added feedback on module handling, assembly, and cranage and were eventually incorporated into the final design which was ultimately fabricated by Coerco.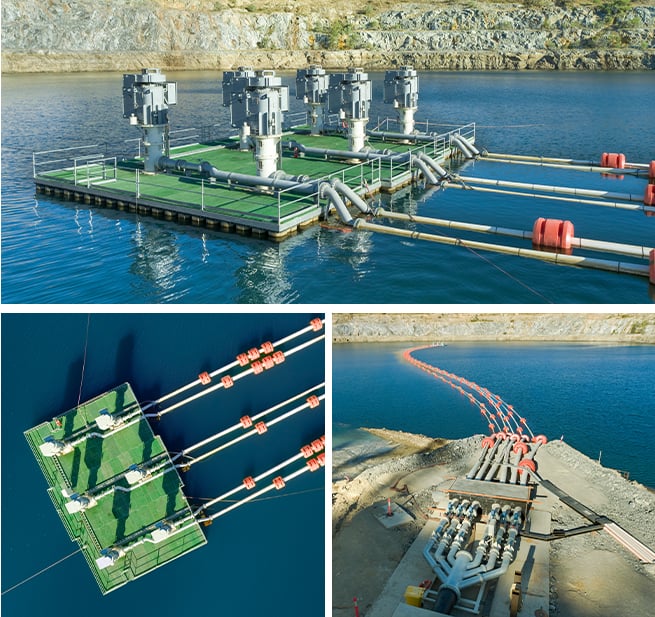 "It's been really easy working with Coerco. Whenever I need some information from them, they're easily accessible to call or chat with or send an email through and receive the information properly. If I had a job requiring a similar solution, I'd like to seek a solution from them. It's been very enjoyable working with Coerco, and as you can see with the solution we've got there, it all came to fruition pretty well." said Will.