September 27, 2022
Coerco's Poly Water & Chemical Tanks: Engineered & Certified to Last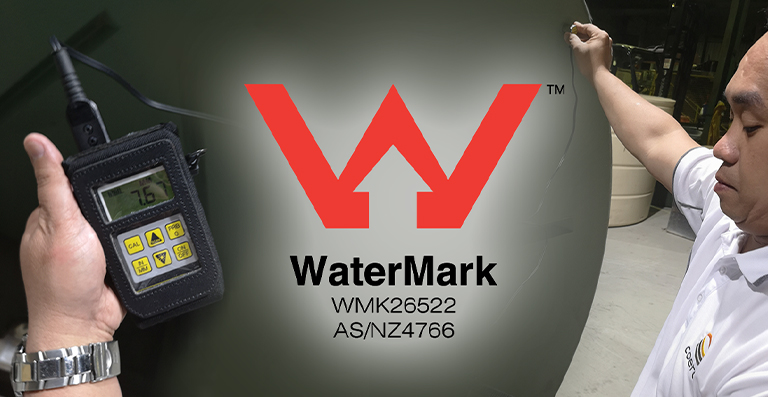 COERCO, Australia's leading poly product manufacturer and supplier, has recently been certified to the rigorous AS/NZS 4766:2020 Standard and has received WaterMark Product Certification. COERCO takes pride in this success as it showcases its expertise and dedication to providing reliable and safe liquid management solutions.   
Manufacturing Standards and Certifications Applicable to the Manufacture of Polyethylene Storage Tanks are the following:
AS/NZS 4766:2020 Polyethylene storage tanks for water and chemicals
AS/NZS 4020 Testing of products for use in contact with drinking water

AS 2070 Plastic materials for food contact use

​

Watermark Product Certification

​

ISO 9001:2015 Quality Management System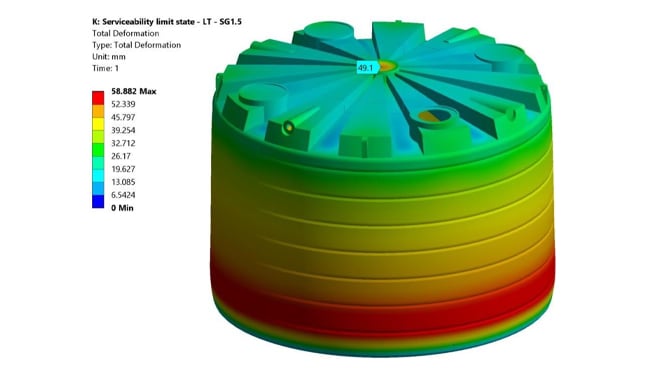 All Coerco tanks are designed through analysis and independent verification by qualified professional engineers with all applied loads (dead, hydrostatic, wind & earthquake) and service temperature considered to verify the tank designs. Methods of this design analysis include computerised finite element analysis (FEA) programs using a geometric nonlinear analysis solver (GNA).
The Australian Standards: Why they matter
The AS/NZS 4766 standard specifies the design and manufacture requirements of polyethylene storage tanks rotationally molded into a one-piece seamless construction.
This a joint Australian/New Zealand standard applies to rotationally moulded buried, partially buried and non-buried storage tanks for water and chemicals.
Australian Standards are not legal requirements that producers of products are obligated to meet. Rather, Australian Standards such as the AS/NZS 4766:2020 polyethylene tank manufacturing standard are requirements set by Standards Australia, a non-profit and non-government organization developing manufacturing guidelines to guarantee the quality of goods and services. 
As such, Australian Standards are voluntarily adapted by companies who want to manufacture products of high calibre – in this case: polyethylene storage tanks for water and chemicals.
COERCO is now certified to this standard and conducts all necessary testing under the standard to provide an additional guarantee through commitment to the highest manufacturing and quality standards.
Testing reliability and absolute commitment to quality 
To adhere to these requirements, product testing must be completed for batch releases (two in every ten tanks produced with a capacity of 5000 litres or less and every single tank produced with a capacity larger than 5000 litres) must undergo visual, impact and ultrasonic thickness tests.
COERCO conducts three types of tests – Visual Inspection (Internal & External), Drop Dart Impact Test and the Ultrasonic Thickness Test.
Each tank is visually inspected (internal and external) for workmanship to ensure there are no defects.
The Dart Impact Test is a method that measures the impact strength of the polyethylene to ensure that the tank was manufactured in correct conditions and verify that the material has good impact resistance, thereby resulting in excellent strength and superior crack resistance.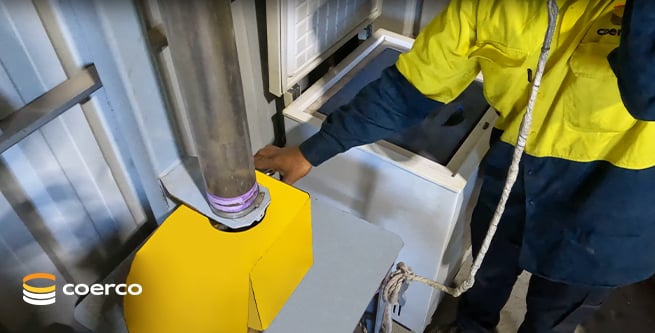 Test specimens are cut from the available areas on the product and cooled at ambient temperature for a minimum of 12 hours from the time of manufacturing of the product. After cooling to ambient temperature, the samples are then conditioned at -40° Celsius for a specified period of time and then impact tested in a drop dart apparatus.
If the manufacturing conditions or raw materials were inadequate the impact the sample can absorb will likely be low and the sample will crack or puncture. If this is observed in any sample, the product is rejected, or further batch testing is done to ensure compliance.
The Ultrasonic Thickness Test  is conducted to measure and verify the thickness of the tanks. Each tank is ultrasonically thickness tested on up to twenty specific places on a tank to confirm the thickness exceeds the nominated tank design measurements.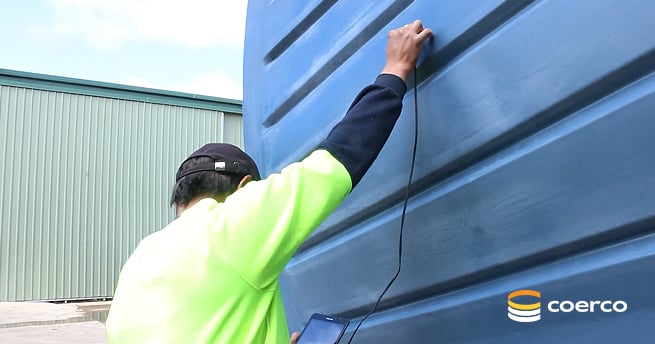 According to AS/NZS 4766:2020 a tank's thickness should not be less than the 4.5 millimeters in any section. Every tank must pass this testing phase to be accepted as a certified AS4766 tank.
Achieving WaterMark Certification
The WaterMark Certification Scheme is a mandatory national scheme for plumbing and drainage products to ensure they are fit for purpose and appropriately authorised for use in plumbing and drainage installations. This means that a material or product has been tested and evaluated to an approved product specification and certified by an accredited organisation.
For COERCO, receiving the WaterMark Certificate of Conformity compliments their carefully curated design process. Receiving the WaterMark signifies that a product has passed the mandatory scheme and regulations administered by the Australian Building Codes Board (ABCB).   
Following this achievement, respective COERCO products are registered under the Watermark Certification scheme. Records of COERCO products under this scheme are in this link.  
Products certified to Watermark and AS/NZS4766:2006 are labelled with a certified product mark and have the license number issued by the certifying third party permanently displayed on the product.
With this recent achievement, COERCO has again showcased its expertise in liquid control management and its passion for providing high-quality products - two main factors that continue to firmly establish the client's confidence in COERCO's risk-free engineered solutions.