April 28, 2023
Exmouth Eco-Friendly Underground Septic Tanks for Efficient Wastewater Management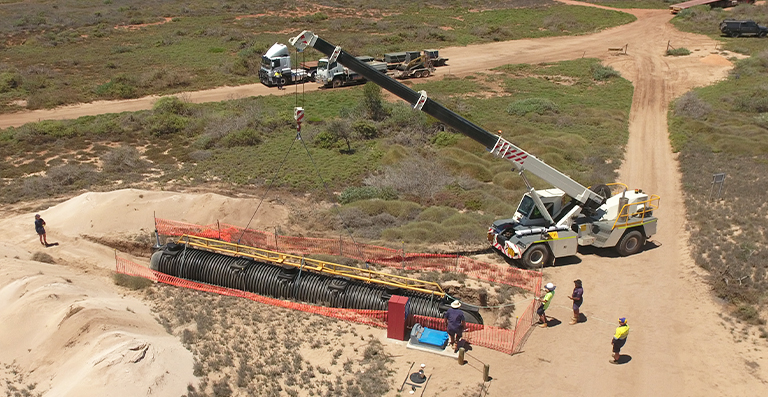 The Department of Biodiversity, Conservation, and Attractions (DBCA) is an Australian government agency responsible for conserving and managing the state's natural environment and cultural heritage. Its mission is to promote biodiversity conservation, foster sustainable use of natural resources, and provide accessible nature-based tourism and recreation opportunities.

The DBCA oversees various aspects of wildlife and habitat management, including the management of national parks, marine parks, and other protected areas. It also plays a key role in managing various environmental programs, policies, and regulations, designed to protect and sustainably utilize the region's natural resources. 
To accommodate the expected increase in visitors camping in Exmouth, WA, especially at Giralia Station and Nyinggulu Coastal Reserve during the total solar eclipse event from 17 to 23 April, 2023, the DBCA sought a reliable contractor to construct and deliver large-volume septic tanks. 
Giralia Station required one septic tank with a minimum capacity of 31,000 litres and two more septic tanks with a minimum capacity of 27,000 litres each.  
The Nyinggulu Coastal Reserve needed one septic tank with a minimum capacity of 31,000 litres and three additional septic tanks with a minimum capacity of 27,000 litres each.  
Furthermore, these tanks should possess features like large capacity for servicing dump station dump points, direct mounting compatibility for dump points, light weight, durability, weather resistance, an inspection cap, an easily accessible pump outlet, and road transportability. A warranty period of no less than 12 months was also required. 
For this, the DBCA has identified Coerco as the ideal candidate for the task, given their renowned reputation as a manufacturer of top-notch septic systems.  
"The Coerco team worked with DBCA to supply a fit-for-purpose product that met our needs. They constantly updated us on the project's progress from the delivery stage until after the delivery stage. They provided us with photos as well as documentation in a timely manner. The team's expertise and efficiency made things easier for us, which helped build our trust and confidence in them."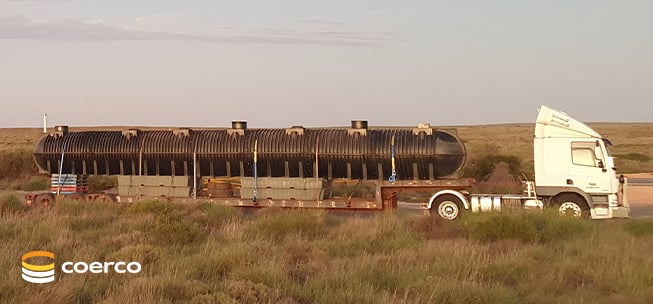 Crafted from lightweight polyethylene material, Coerco's septic systems are celebrated for their durability and efficiency, capable of withstanding diverse environmental conditions. 
They offer a comprehensive selection of capacities, ranging from 23,000 to 31,000-litre underground septic tanks. Furthermore, all their products meet Australia Standard AS/NZS1546 certification and include a 15-year warranty, ensuring quality and reliability. Coerco was tasked to construct the needed septic tanks and deliver them and their accessories to Giralia Station and The Nyinggulu Coastal Reserve near Exmouth Gulf, WA. 
DBCA was highly satisfied with how Coerco improved the design, which utilised a flapper-style connection to the ezy dump instead of pea traps to prevent blockage and clogging. We also had several inspection manholes for easier inspection. We also placed a carbon filter vent to minimise the odor. Coerco was able to deliver on time, which significantly saved the client downtime costs.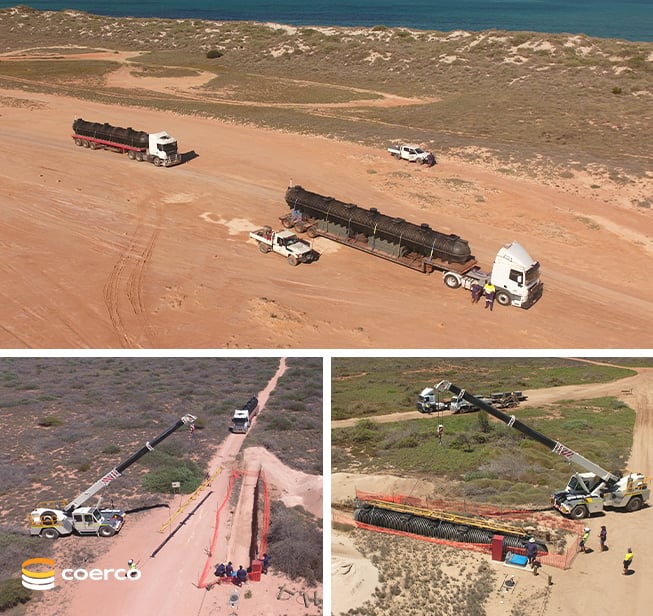 Coerco accessed the areas via unsealed roads and tracks. As soon as the trucks arrived on 8 March in the morning, the Coerco team unloaded the first batch of septic tanks and started installing them around noontime. Meanwhile, the second batch of tanks were delivered on March 17 and April 11.