March 14, 2018
The Key Differences between Rotomoulded & Plastic Fabricated Tanks
Mining & Civil, Industrial Process Tanks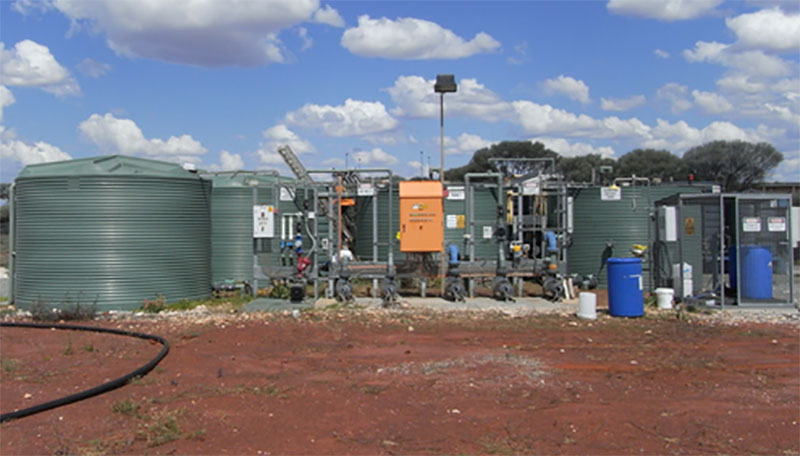 There are two main processes for manufacturing of industrial plastic tanks suitable for processing in the mining and industrial sectors.
Process tanks made from industrial plastics are a long-term investment and it is important to ensure that the tank is of the highest quality, compatible material to protect your investment and personnel.
Mass-produced moulded tanks (LLDPE) are cost-effective, but some applications require and benefit from fabricated polyethylene tanks (HDPE). Let's take a look at the differences below.
LLDPE vs. HDPE
Mass-produced chemical process tanks are created using a process called Rotational Moulding also known as roto-moulding. The manufacturing process involves the use of a hollow mould, which is heated and rotated continually causing the softened plastic inside the cavity to stick to the walls, creating the finished product.
This process uses Low Linear Density Polyethylene (LLDPE) which was the first polyethylene ever produced. The molecular structure of LLDPE consists of irregularly spaced long- and short-chain branching, which keeps the molecules from packing together tightly. When heated, LLDPE is flexible and easily moulded. This allows for the mass production of a product that is durable and cost-effective.
Custom plastic fabricated tanks are manufactured using High-Density Polyethylene (HDPE). HDPE has less branching in the molecular structure, allowing the molecules to pack together during crystallisation. They are not manufactured in a mould, they in fact start out as a HDPE sheet or pipe that is fabricated to create a vessel/tank. The crystallisation process creates a denser product which makes HDPE stiffer and more rigid, enabling the design of tanks to fit any specification.
Roto-Moulded Poly Process Tanks
Standard tanks manufactured in predetermined sizes and shapes make them easy to mass produce. These can then easily have a range of poly welded options fitted to the standard tanks to suit many applications. Customisations can include welded inlets and outlets, internal and external pipework, cleats and gussets for ladders and handrail, provision for signage and additional access ports.
The relatively quick manufacturing time of roto-moulded tanks, high impact resistance and one piece construction, ensures that roto-moulded LLDPE tanks are the most cost effective solutions for many mining and industrial situations including:
Insulated Industrial Process Tanks for where controlled temperature is required:
Concrete Mixing/ Batching Plants
Fruit and Vegetable Washing
Live Food Processing
Cone Based Industrial Process Tanks for:
Clarifier tanks for removal of solids through sedimentation

Chemical Mixing and Agitation

Bio-deisel Processing

Trace Element Mixing
Higher Specific Gravity Industrial Process Tanks for larger diameter fittings enabling high volume pumping:
Waste Water Treatment

Effluent Processing

Backup Water Supply for Fire Protection

Storm Water Processing
Polyethylene tanks are able to store a wide range of chemicals as per this Chemical Resistant Chart.
Other agents (e.g. detergents, alcohols, oils etc) may cause cracking of the LLDPE especially when the part is under stress. If you want to store a chemical that can attack, degrade and cause swelling in LLDPE the next option to consider is a custom HDPE fabricated solution.
A Custom Plastic Fabrication Solution
As mentioned, moulded tanks manufactured from LLDPE provide an economical solution for many applications. However, to meet the demands of some applications with unique size or shape requirements, custom plastic fabrication using HDPE is the perfect solution. HDPE is a close relative of the LLDPE used in roto-moulding however it has higher density which provides strength and stiffness with greater Chemical Resistance.
Custom HDPE tanks are more suited to hazardous chemical storage and becoming a preferred alternative to stainless steel and fibreglass. Any repair to a fiberglass tank compromises the corrosion barrier on the inside of a fiberglass tank.
When specifying poly tanks for mining and industrial applications it is very important to know exactly what the liquid properties are, the environment in which it will be stored and the intended use of the tank. Extensive information regarding the properties of the liquid (Material Safety Data Sheets) are ideal is required for some applications to ensure the correct tank solution if offered.
To learn more about our industrial process tanks, contact us to schedule a consult today.